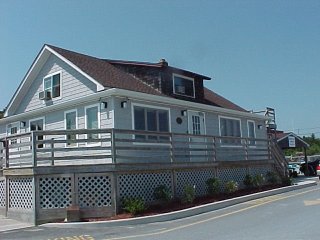 Utsch's Marina
Gertrude M. Wagner Building

After years of renovation, the Gertrude M. Wagner building was opened to our customers on June 14, 2002. This building houses private showers, laundromat, lounge area, and telephone connections for computer workstations. Secure access is provided to our slip holders through a computerized key system.
This building was the summer home of Ernest Utsch, Sr. and his wife Gertrude, Ernest Utsch, Jr. and his wife Rose Marie Utsch, and their three children Ernest Utsch, III, Charles P. Utsch and Rose Marie Utsch.When the Utsch's began to rent slip space, the front porch served as their first office and supply store. The attic provided overnight lodging for many fishermen, and the dining room was always open to tired and hungry travelers.
The business gradually outgrew its tiny office and new buildings were added. Likewise the family outgrew the house and moved to the other side of bridge. Sentimentality and a sense of history prevented the demolition of this, the original building. We're proud that it has been renovated and is once again an important part of Utsch's Marina.

| | |
| --- | --- |
| A relaxing place to wait while shipmates shower. | Teak and wicker furniture grace the lounge. |
| The Internet Lounge provides counter space for laptop computers and telephone connections for Internet access. | The laundry facility was completed September, 2002. |
| Two of the private showers are specially designed with the handicapped boater in mind. Easy-access showers and hand rails are some of the accommodations. | The other six private shower rooms each have a teak bench, tiled walls and an oversized shower with a seat. |
| The shower rooms have pedestal sinks, mirrors, electrical outlets, and clothing hooks. | The building is dedicated to the memory of Gertrude Wagner Utsch, wife of Ernest Utsch, Sr. |
| RV parking facilities are located in front of the Gertrude Wagner building. | The campers have a beautiful view of the Cape May Harbor. |

Sail on in...we'll be waiting!
Utsch's Marina
1121 Route 109
Last updated 8/18/09
Schellenger's Landing
Cape May, NJ 08204
(609) 884-2051
FAX (609)898-0136

E-mail us!